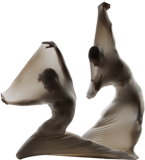 There has never been such a meeting of two seemingly different forms of art, as the cooperation between Splendor- Jewellery and the Contemporary Ballet of Szeged.
A year and a half of planning and fine-tuning our cooperation, followed by a period of intensive work brought about a truly unique and remarkable performance as well as a astonishing jewellery collection. The collection combines the dynamics of movement with the beauty of dance and the richness of brilliant gemstones and ageless precious metals in the signature sculpture like form that Splendor-Jewellery's art is known for.
The performance, planned to be touring internationally, centres around the birth of a diamond which is formed of the four elements. In different scenes, the dancers of the Contemporary Ballet of Szeged portray the formation of the diamond: through the dynamic dance of flames, the whirl of the air, the uneven, raw power of the earth and the swirl of water. After viewing the different scenes, more and more jewellery collections came about inspired by the movements of the dancers. Thus, the pieces projected onto the wall match the shapes created by the body of the ballet dancers.
World renowned, Kossuth Award-winning choreographer Tamás Juronics created the performance keeping in mind the style of Splendor-Jewellery designs. Orsolya Raski Nagy and Daniel Nagy (winners of 55 international awards) worked in close cooperation with the dancers to find and develop the common elements, forms and movements between the dancers and the jewellery pieces. The result was spectacular.
"The audience were in complete awe all through the performance"- explain Orsolya and Daniel who were also very much surprised by the overall effect of the performance and exhibitions.
All five jewellery collections differ from each other in terms of mood, gems, metals and style. They display the harmonious movement of the ballet dancers in an abstract way. The platinum, gold and silver alloys, diamonds, pearls and gems used to make the jewellery, not to mention the sculpture like design, guarantee that they are of the highest quality as well as being completely unique, one-off pieces of art. Such special pieces should be shown to people all around the world because the unique beauty of the collections will surely appeal to people at home and abroad. This kind of presentation of dance and jewellery art is completely unprecedented.
The performance will soon be supplemented with a photography exhibition that is to create a visual bridge between the movements and the designs along the lines of the four elements.