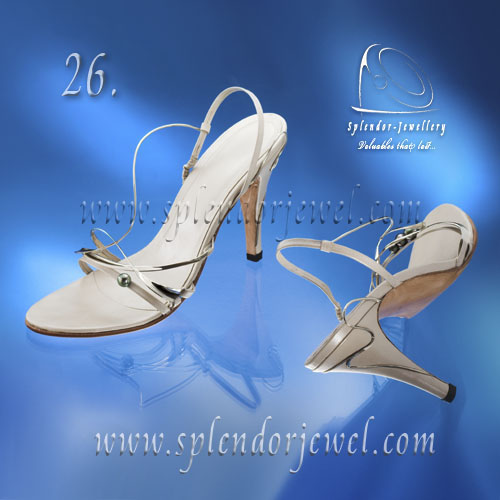 Splendor-Jewellery won its 26th award with a pair of jewellery pumps named Cinderella.
We received 1st prize at the regional finals of the Tahitian Pearl Trophy in the Accessory category. The shoes went on to win a number of other awards.
The special feature of our jewellery sandals is that they are custom made to fit the shape of the customer's feet. We take into account the bone structure and muscle tone of the wearer's feet as well as movement and their personal wishes and needs (regarding the length of the heels, materials used, embellishments, colors etc.) and the shoes are built together with the gold elements. In other words, we integrate the different materials of the shoe, the gold elements are not sewn on after the base of the shoe is completed. The award winning pumps shown above are asymmetrical and dynamic, the ornament that starts on one half of the shoe is completed on the other. The Cinderella pumps were custom designed to fit Orsolya's feet.
Created from 18 k white gold, traditional leather and AAA quality Tahitian pearls.