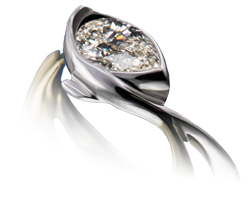 One day we received a letter from Spain, from a man called Riccardo, who contacted us because he needed help in finding a special engagement ring for his bride to be. He had some definite ideas, and the new ring had to match some other gold and platinum rings that Ivana owned, but otherwise it was up to us to find the personal characteristic or trait that the ring should embody.
Riccardo took the task of finding the perfect ring very seriously. He visited all the well-known jewellery shops but none of them offered the sort of unique jewellery that he was looking for. Then he read up on the subject in books and on the internet, but he still did not feel that he had found what he was looking for.
We invited Riccardo to our workshop so he could experience the mystical and obscure world of the goldsmith's craft in person. We wanted to discuss his partner's characteristics, style, appearance and personality face to face so we could create a truly unique and personalised ring for Ivana. We explained that because the ring would be a surprise he needs to be discrete and not draw attention to his project.So instead he invited us to his office in Madrid where we continued our discussion in person. He was very enthusiastic and dynamic, a man deeply in love. He showed us all the information and photos he had collected about jewellery. And we spent hours discussing different possibilities.
The following day we visited the town of Toledo, near Madrid, which if famous for its artisans and metal work industry most notably its medieval sword-smiths. We were greatly inspired by the town, and as we sat in a small cafe we drew one sketch after another. When we were done we already knew which one Riccardo would like best, which one was most subtly symbolic of their relationship.
We were right. Riccardo fell in love with our last sketch. We travelled back to Hungary looking forward to the work process by which the beautiful ring would come alive.
This task, however, turned out to be significantly more difficult than what we had anticipated. As we had not made jewellery even similar to it, we had to experiment and the final shape of the ring was reached after numerous trials.This takes a great deal of time, raw materials and energy but also ensures the outstanding quality of the final outcome.
We returned to Madrid with the ring and to our great satisfaction Riccardo was impressed. For us as creators, seeing the satisfaction of our clients brings us tremendous joy and a real sense of accomplishment. In this case, Riccardo's reaction compensated for all the work and effort that we put into creating his special surprise.
We were not present at the proposal itself but received a tearful call shortly after the event. We believe that the ring must have turned out exceptionally well if we were contacted at such an important moment in the couple's life. We were overjoyed!
We are still in contact with Riccardo and Ivana and were at their wedding. We hope that we will have the opportunity to create jewellery for them to commemorate future important events in their future life together.